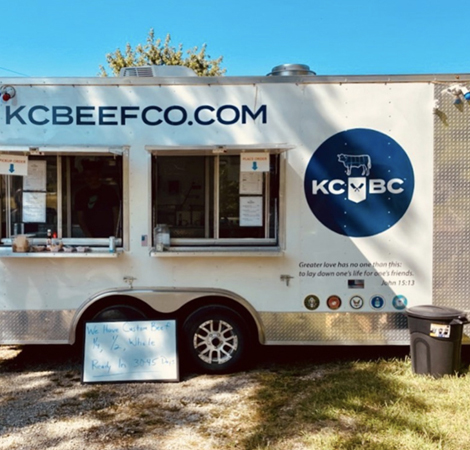 Shipping Policy & Terms And Conditions
INTRODUCTIONS

ACCEPTANCE OF CONTRACT TERMS
By accessing this web site and/or purchasing products from us, you agree that you have read, understood and agree to be bound by all of the provisions set forth herein and below (collectively, the "Terms and Conditions"), all of which constitute an agreement between you and Kansas City Beef Company, LLC. The unenforceability of any one of the Terms and Conditions shall not affect the enforceability of any of the other Terms and Conditions. The terms and conditions on any quotation, order acknowledgment, invoice or other form you receive from Kansas City Beef Company, LLC are incorporated into these Terms and Conditions by reference. These Terms and Conditions constitute the exclusive agreement between you and Kansas City Beef Company, LLC, except as otherwise agreed in writing signed by us. Our failure to assert a right or insist upon compliance with any term or condition shall not constitute a waiver of that right or excuse any subsequent noncompliance.

EFFECTIVE DATE
These Terms and Conditions are effective as of August 18, 2021. We reserve the right to change our terms without notice and by posting a revision on this web site. The new terms go into effect at the time of posting.

SALES TERMS

Shipping rates to Lower 48 U.S. States Only (Alaska & Hawaii Excluded)
MINIMUM ORDER
There is no minimum order.

PAYMENT
At this time we can only accept credit cards (American Express, Discover, MasterCard, Visa). Other ordering/payment arrangements can be made via phone or email correspondence.

Orders Shipping to the lower 48 U.S. States (Alaska & Hawaii Excluded)
When an order shipping to any of the lower 48 U.S. states is placed, we will charge your credit card for the order total (includes shipping & applicable sales tax).

BACKORDERS
We do our best to maintain sufficient stock to ship orders complete. If we do not have enough product to meet your order we will ship what is available and leave the order open until we can fill the rest of the order.

DAMAGE AND SHORTAGE CLAIMS
Please be sure to count the cartons you sign for and note any damage on the bill of Lading. Open your order immediately to check for any concealed damage. If damaged, the original carton should be kept for possible carrier inspection. Shortage or damage claims need to be reported within 5 days of delivery. To process a claim, we need your invoice number. Once we ship an order it's consigned to the carrier. Please note: THEY are responsible for any shortage or damage incurred - until you sign a clear bill of receipt. Usually, carriers will not honor a claim if they have a signed receipt from you.


SHIPPING POLICY
United States of America Shipping rates are calculated with UPS API and are relevant pricing to the location/zip code of your ship-to address along with the shipping dimensions of your items purchased. You are also allowed to choose the shipping method (UPS Ground, UPS Next Day, 2nd day Air, Etc.) at the point of check-out on the e-commerce cart.


RETURN POLICY

Typically we do not accept returns. However, in some cases "Returns" will be handled on a case by case basis and could be replaced or substituted with a product of equal value.

To make a return, please follow the following process.

Contact us through the email contact form or direct phone numbers listed on this site.



OTHER PROVISIONS:

NO OTHER REPRESENTATIONS OR WARRANTIES
WE MAKE NO REPRESENTATION OR WARRANTY THAT PRODUCTS OFFERED FOR SALE ON THIS WEB SITE ARE LEGAL, AVAILABLE OR APPROPRIATE FOR YOUR PURPOSES OR FOR USE IN YOUR COUNTRY OR REGION. YOU ARE RESPONSIBLE FOR COMPLIANCE WITH LAWS GOVERNING YOUR USE OF THESE PRODUCTS. THIS WEB SITE IS PROVIDED "AS IS" WITHOUT WARRANTY OF ANY KIND, EXPRESS OR IMPLIED. YOU HAVE THE SOLE RESPONSIBILITY FOR ADEQUATE PROTECTION AND BACKUP OF DATA AND/OR EQUIPMENT USED IN CONNECTION WITH THIS WEB SITE. YOU AGREE TO HOLD FITTINGCONNECTION, LLC HARMLESS FROM, AND YOU COVENANT NOT TO SUE FITTINGCONNECTION, LLC FOR, ANY CLAIMS BASED ON USE OF THIS WEB SITE.

LIMITATION OF LIABILITY
UNDER NO CIRCUMSTANCES SHALL FITTINGCONNECTION, LLC BE LIABLE IN CONTRACT, WARRANTY, TORT OR OTHERWISE FOR ANY SPECIAL, EXEMPLARY, INCIDENTAL OR CONSEQUENTIAL DAMAGES THAT RESULT FROM YOUR PURCHASE OF ANY PRODUCTS FROM US OR ANY USE OF, OR THE INABILITY TO USE, ANY CONTENT ON THIS WEB SITE, EVEN IF WE HAVE BEEN ADVISED OF THE POSSIBILITY OF SUCH DAMAGES. IN NO EVENT SHALL OUR LIABILITY EXCEED THE PURCHASE PRICE OF THE PRODUCTS YOU PURCHASE FROM US.

YOUR OBLIGATIONS
You warrant, represent and agree: (1) to comply with all laws; (2) that our sale and shipment of any product ordered by you will not, by export thereof, your legal status or otherwise, cause us to violate any law; and (3) to indemnify us against any losses and costs incurred from a failure by you to comply with any law or these terms and conditions or from any unlawful use by anyone of any product ordered by you.



WEB SITE USE

GRANT OF LIMITED USE LICENSE
WYSIWYG Industrial, LLC grants you a limited, nonexclusive, non-transferable license to access and use this web site only in accordance with and for the purposes set forth in these Terms and Conditions. You do not have permission to access or use this web site in any way or for any purpose that involves a violation of these Terms and Conditions. WYSIWYG Industrial, LLC retains the right to terminate your limited use license at will, at any time.

OWNERSHIP; SCOPE OF LICENSE
This web site is intended only for your use in deciding whether to purchase products from us and in purchasing products from us. You may access and make a limited number of copies of the frames or pages only as needed for this limited purpose. All title, ownership and other rights in and to this web site are owned or licensed from a third party by WYSIWYG Industrial, LLC Any unauthorized use, change of information, or interference with the availability of, access to proper working of or security measures on this web site is strictly prohibited.

DOWNLOADING; OTHER USE
Unless expressly permitted by us, any downloading, copying, mirroring, archiving, intercepting or redirecting of content from any part of this web site is strictly prohibited. Even if permitted by us, any other information from this web site does not give you title or any other rights thereto. Redistribution, making a derivative work from and any other commercial exploitation of any content on this web site or of any software you download from this web site are expressly prohibited. Using bots, spiders, other indexing agents or any other device to copy any part of this web site or use of any technology or other means to hide your identity when accessing this web site are also strictly prohibited. You agree you will impose only that load on this web site which is necessary for your use in deciding whether to purchase products from us and in purchasing products from us.

USER CONTENT
Any ideas you disclose to us shall be deemed the property of WYSIWYG Industrial, LLC. We are free to use any such disclosure for any purpose and in any media without compensation, and you warrant that all "moral rights" in any such disclosure have been waived. WYSIWYG Industrial, LLC reserves the right to regulate all content provided by third parties on this web site, but we are not responsible for that content. When participating in interactive portions of this web site, you represent that you have the right to use any information or content you upload or post and agree to abide by the following rules: (1) you will not provide infringing, defamatory, obscene, threatening, abusive, illegal or otherwise improper content; (2) you will not upload viruses or harmful components; (3) you will not use the web site to further any unlawful purpose or to violate the rights of any party; and (4) you will not provide content for a commercial purpose.

JURISDICTION AND CHOICE OF LAW
These Terms and Conditions shall be governed by and construed in accordance with the laws of the State of Missouri applicable to contracts made and to be performed in Missouri, without giving effect to conflict of law principles, and applicable federal law. Any personal information submitted will be subject to these laws, not those of any jurisdiction outside of the United States. You irrevocably consent to the exclusive jurisdiction of the courts located in Overland Park, Kansas in connection with any action arising out of or related to these Terms and Conditions or this web site. Notwithstanding the foregoing, proceedings to enforce the result of any such adjudication may be brought in any applicable forum.

MAILING ADDRESS:
Kansas City Beef Company
100 N. Main
Holden, MO 64040